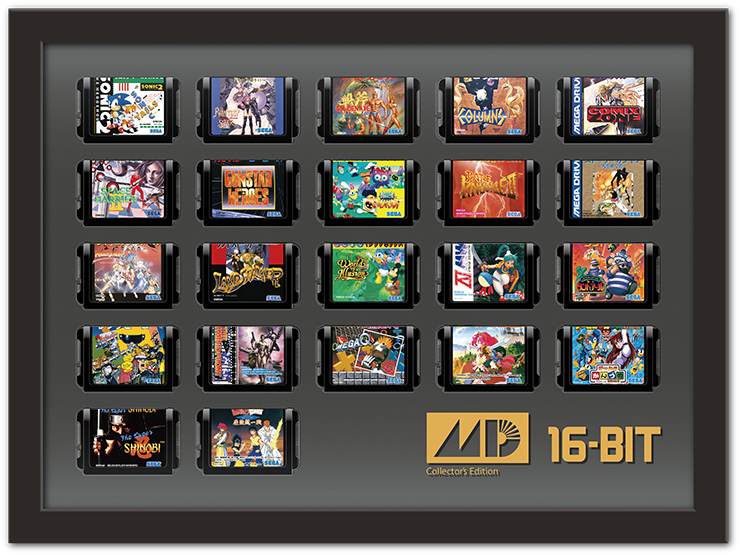 Well, its seems there is more to the story with Sega Mega Drive "Tower of Power" being offered in Japan.  A Collector Edition looks to be offering 22 non functioning Sega Mega Mini Cartridges which could be displayed with your unit.  This is all for aesthetics and really serve no actual functional purpose other then to just look cool.
*OPINION BELOW*
That stated, I totally want to order this from Japan and show off the Mega Drive with just the M1 CD and Monster World 4 (or maybe Phantasy Star) slotted in.   While I believe in M2 and their ability to make great emulated products.  This device will not replace my real model 1 Genesis / model 1 CD, but I feel that the positive attention this device receives.  Helps draw good attention overall, and makes the classics relevant again to unfamiliar audiences.  I personally want to support Sega and show that I love these classics and that those games still mean the world to me (I also want those 6 button controllers that Japan is getting).
The good feedback that Sega received by the community caused the removal of A.T. Games and replacement by the venerable community loved M2.  It shows that many people care about these classics and that these works of art should be celebrated and treated with respect.  As well as enjoyed as close as possible to the way they were meant to be played giving the limitations.  This looks like this is being illustrated well in Japanese market, and I for one sincerely hope that we see these cool artsy addons in the West.
Links: https://ebten.jp/sega/p/7015019091906