Brian from RetroUSB has just released a new firmware for the FPGA-based NES console called the AVS.  This is essentially the same exact firmware he posted over a year ago that allows the ability to load custom palettes, but with the Game Genie error fixed.  Unfortunately, AVS units are severely affected by the global part shortage and any purchase made today won't ship for over a year.  If you already own one, more info on the firmware below the link:
Firmware:  https://retrousb.com/downloads/AVS-v1.52.bin
Scoreboard App (required):  https://retrousb.com/downloads/Scoreboard(WIN)v1.50b1.zip
NES Palettes:  https://www.retrorgb.com/assets/NES_Palettes_2022-01-19.zip
NES ROM Carts:  https://www.retrorgb.com/romcarts.html
Main page:  https://www.retrousb.com/product_info.php?cPath=36&products_id=78&osCsid=2945a80f5930658692da052e1cfd53fd
UPDATE:  Brian quietly released a v1.52 update with more fixes.  The rest of this post is still accurate, just use the newer firmware file linked above.
Here's detailed instructions on how to update the firmware, as well as load a new color palette of your choice.  You need to load the firmware file every time you change the palette, so it's worth familiarizing yourself with this quick process:
Firmware Update:
– Download the latest firmware and scoreboard software linked above.
– Connect a MiniUSB port from the AVS to your computer.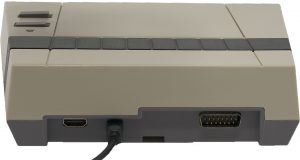 – Load the scoreboard software, then power on your AVS.
– Click on Transfer, then Custom Palette – Do NOT click on "Upgrade Firmware" if you'd also like a custom palette.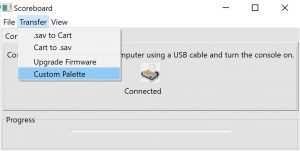 – You'll then need to point it to the latest firmware .bin file.  PLEASE NOTE:  You'll need to upgrade the firmware along with the color palette each time you load a new custom palette, regardless of what firmware is already loaded.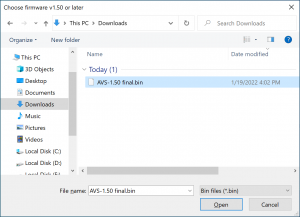 – Next, it will ask for the palette file.  You can load any NES palette in .pal form.  My favorite palette these days is "Kitrinx34", which is available in the link above: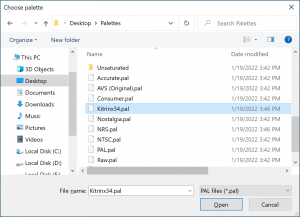 – The AVS' firmware will now update and the .pal file will be injected as well.  The lights on your AVS might flash during this process, but don't touch it until the scoreboard software lists "Done" as shown below: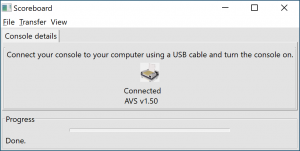 New Custom Palette:
After upgrading, once you enter the menu, you'll have the option to select all the previously available color palettes, as well as the custom one you just loaded.  Unfortunately, you can only have one custom palette loaded at a time and it's simply labeled "Custom", not the .pal file name.  It would be nice if we could add multiple, but this is certainly better than nothing:

Here's the three built-in palettes, as well as the new one I added.  There's arguably no "right" palette, as NTSC composite video could produce different colors based on your TV.  As a result, everyone who owned a NES as a kid, might remember the colors slightly different than someone who grew up with a different brand TV.  I recommend using an emulator to pick the one that your eyes prefer most and load that: (click for full-sized):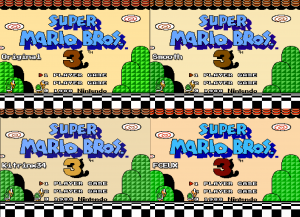 Feature Request:
I'm also still hoping for a feature that allows you to use the AVS on CRT's:  If a 480p, 4:3 mode was added, people could use a basic HDMI to VGA converter and add scanlines to mimic the look of a 240p TV, simply by connecting an HDMI to VGA converter.  I demo'd this in a previous video and the results are quite good!
Also, it may be possible to add a feature that would make this compatible with all standard CRT's, by outputting a 240p-like signal (maybe 1280×240?).  Then you could use an HDMI to YPbPr converter to connect the AVS to any CRT with Component Video inputs.  That includes both RGB monitors and consumer-grade TV's!  I'm not sure if that's even possible with the AVS' chipset, but hopefully Brian will look into it.
Conclusion
Overall, I still really like the AVS.  When available, it's by far the most cost-effective, quality way to play NES cartridges on a flat-panel TV.  It's a shame they're not available for over a full year.
For more info, please check out my old, but still mostly accurate review of the AVS below.  I shot this before I upgraded to decent camera equipment, so it's a bit rough around the edges, but it's still mostly accurate;  The only differences are color palette support, as well as an option for interpolation that gets rid of any shimmering you might see during scrolling.
RetroUSB also released an awesome, low-lag, wireless controller, which I reviewed a long time ago as well.  As a note, an awesome 3D printed case for the controller was released after the review and you'll definitely want to check that out tooll!
Also, here's an interview I did with Brain right after the AVS was released, starting at around 22:00: