TW: If you're here for Resident Evil news then you're probably comfortable with a little gore and violence, however cheesy it might be, but in case you're not then steer clear of the linked videos.
Every country has their own localization needs and rating standards for video games, forcing developers to either alter or omit content for different markets. The Resident Evil series—a horror-themed franchise celebrating its twenty-fifth anniversary this week—has been no stranger to these kinds of economic and cultural pressures. While most of Resident Evil's localization changes revolve around the ways that violence and gore are portrayed, Capcom will sometimes also re-balance aspects of the gameplay and even add extra content between releases. These changes can make finding the "ideal" version of each game a bit of a wild goose chase, because each version will have its own benefits and drawbacks.
The first Resident Evil was released in Japan on March 22nd, 1996 and localized for other markets later, eventually seeing a re-release with a Director's Cut and a version with Dual Shock controller support. Each revision has their own… erm… "unique flavour" and feature creep, but one thing missing from every console release after the original Japanese revision are the more gruesome full-colour intro sequences (featured above). I could go on about some of the other notable differences, but The Cutting Room Floor has a tremendous entry for Resident Evil and I think most interested readers would be well served to give that a once over.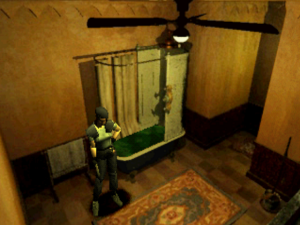 To celebrate the original game's twenty-fifth anniversary, fans have begun work on creating a patch that implements the best qualities of every revision. The project is still in its infancy, and the current patch is not feature complete, but the "True Director's Cut" looks like it is shaping up to be a terrific way to return to this foundational survival-horror classic:
The original uncut FMVs from the Japanese version, alongside the full-color opening scene from the French and German Director's Cut release.
Replacing the orchestrated (and controversial) BGM with the one present in both the original release and the first Director's Cut print.
Use the Mansion's Bathroom from the 01/31/1996 Beta version, which allows you to grab an extra Clip after unplugging the water in Jill's scenario.
Planned features include memo backgrounds that were present in the Japanese releases, the text in the Mansion's right stairwell, and more.
The patch is available on Romhacking.net and is applied to Track 1 of the North American Dual-Shock release. My time with the patch so far has been great, and I can't wait to see what the team has in store for subsequent releases! Check back at RetroRGB for news about this project as more updates get released in the future.