Krikzz has just re-listed stock of his EDFX:  A plug-and-play A/V device for all TurboGrafx and PC Engine devices that include the rear pins.  This adapter has a Genesis 2 MiniDIN that outputs RGB and composite video.  It also outputs stereo audio, with one awesome feature:  If you're using the latest Turbo Everdrive Pro, you can get stereo audio from ODE / CD games as well!!  This is also compatible with all the cables listed in the Genesis 2 section, as well as all the scalers I tried.  More info below the links, including a livestream where I tested it all:
Purchase Here:  https://krikzz.com/our-products/
Genesis 2 RGB Cables:  https://www.retrorgb.com/genesisrgbcables.html
It's my opinion that this is the new go-to, plug and play device for PCE/TG-16 consoles!  It's high-quality, fairly priced and does everything you'd need it to do.  Also, the ability to get stereo audio from CD soundtracks (via the not-included TEDPro) is an awesome bonus.  It's current form includes a plexi case, however at least one developer is already working on a 3D-printed case for it.
Also, I just finished MD Fourier audio testing and it performed great!  It looks like Krikzz modeled it against the SCDROM2 and you can expect stable, consistent performance.  Of course, you can always change the settings to whatever you'd like, but here's what I used.  Oh and make sure to change the Audio Output to Stereo as shown here, otherwise you'll still get mono, even with the EDFX: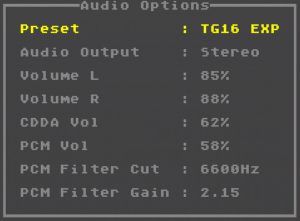 Below is real-time testing of the EDFX, as well as a demo to hear how it sounds!  The stream was broken into two parts, due to a system crash, but all the details are there, if you're the type to enjoy a deep technical stream.  Fair warning:  Most people will find the stream boring and I'll summarize it all in tomorrow's Weekly Roundup…but my fellow nerds may appreciate it!