Mostly known as the creator of mod boards like the NESRGB and the 2600RGB, Tim Worthington recently unveiled a slew of new arcade-related devices (and a Scart switch box) that's he has been working on for a while. In an official press release style announcement, he briefly went through the functions of each device. So without further ado, here's a look at Tim Worthington's new products lineup.
ScartMux:
The ScartMux is an automatic 4-input/2-output Scart switcher that outputs video and audio through two separate 8-pin mini din connectors.
The ScartMux features:
four Scart inputs
two 8-pin mini din outputs (compatible with the Framemeister) + option for audio break-out through a 3.5mm jack
automatic detection through sync signals
mini-usb connector for power
a mini-din to Scart cable will be available separately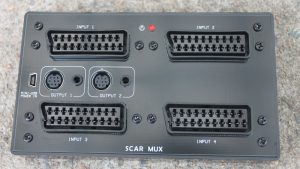 SUPATT – Supergun Attenuator:
The Supatt acts as a video and audio digital attenuator for arcade boards that output unsafe voltages; those may damage expensive equipment like Scart switchers and even RGB monitors. The Supatt is ideally used as a middle device between an arcade board and a capture card. It will also drastically improve the overall quality of the output signal in badly designed superguns.
The Supatt features:
scart and DE-15 outputs + 3.5 mm jack connectors
8pin power connector
video input range between 1.4 & 5.2 V
mono, stereo (Neo Geo), and line level audio input
LCD screen displaying the RGB voltage level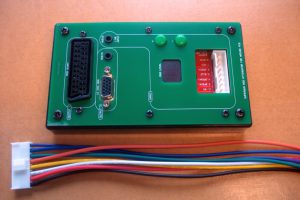 Scart2Arc30 – Arcade Driver:

This is the third revision of Tim's famous Scart to JAMMA adapter. It basically allows any RGB-capable console to properly interface with a JAMMA arcade setup.
The Scart2Arc30 features:
a powerful 6 watt stereo audio amplifier that supports JAMMA mono, MVS (3 wire) stereo, screw terminals
separate line level audio input and output 3.5mm connections
high slew rate video amplifier which contains a DC restoration circuit
gain fixed at 5.5 (output 3.9 Vpp with 0.2 volts DC offset)
sync separator
protection from sync signal >15 KHz (can be disabled)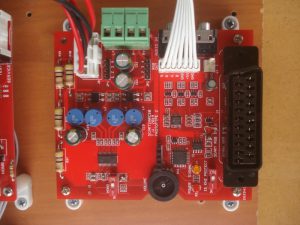 JAMMAProg:
The JAMMAProg is an adapter board that converts various controller interface boards to JAMMA arcade standard.
The JAMMAProg features:
support for up to 6 buttons on the JAMMA harness
two kick harness headers, CPS2 and a generic 8 pin header
two extra buttons on the board itself
20 pin header directly mates with Brook Fighting series such as (Universal Fighting Board, Retro Board, etc)
optional trigger inverter circuit for pad/stick hacks which have analog trigger inputs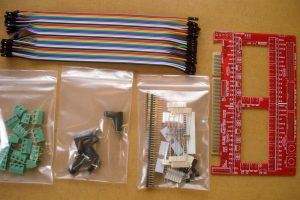 In the following scenario, two Xbox 360 controller interface boards connected to the JAMMAProg, in conjunction with the Scart2Arc30 turns the console at hand into a fully fledged arcade system.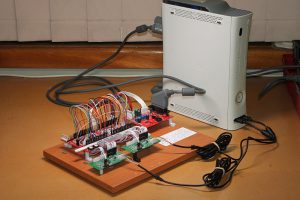 VGA2Scart:
The VGA2Scart is mostly suitable for connecting a MAME PC setup to an RGB monitor/consumer-grade TV set. Note that this device won't downscale 31 KHz signals, it will instead only carry the 15 KHz signal being fed from devices such as the ArcadeVGA 5000 or CRT Emudriver compatible video cards, over to the Scart head.
The VGA2Scart list of features:
small size
powered by the VGA cable or USB to DC barrel cable if VGA power is not available.
stereo audio input by 3.5mm socket.
support for composite sync or separate horizontal and vertical sync of any polarity
protection from sync signal >15 KHz (can be disabled with a solder jumper)
correctly generates SCART switching signals (pins 8 and 16) which put CRT into RGB mode when signal is active
external aspect ratio switch can be fitted (requires soldering)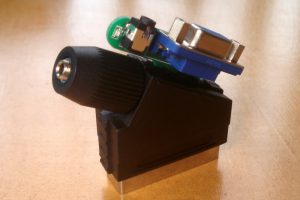 Pricing for the aforementioned devices hasn't been revealed yet, but arcade enthusiasts, who definitely will find use within their setups for at least one device from the list, should keep their eyes peeled on Tim's online shop here.
For more information about the new products, check out Tim Worthington's official news page: http://etim.net.au/new2020/index.html
Auto Amazon Links: No products found.
For further discussion, follow me on Twitter: