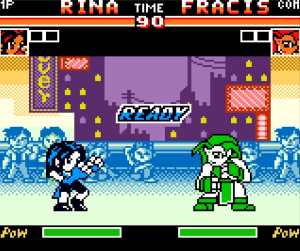 2022 turned out to be an exciting year for Game Boy Color and fighting game fans, as three titles for the system were dumped a few weeks ago, making them playable and widely available for the first time ever in roughly 20 years.
These are three bootleg SNK Fighting games developed in the early 2000s for the Game Boy color, which use the same game engine as the official Game Boy SNK titles. Perhaps even more surprising though is the fact they look and play faithfully to their Neogeo Pocket Color counterparts, while mimicking their graphical style, though it should be noted that they were developed by Vast Fame, a studio in Taiwan famous for its high quality bootleg games.
The dumped games are Queen Fighters 2000, which is Vast Fame's take on SNK Gals' Fighters, Super Fighters 2001 Alpha which is basically a port of King of Fighters '99 for the Game Boy Color and Soul Falchion, the studios' take on Last Blade / Samurai Shodown.
In his latest video, St1ka (that's me) talks about these games and how they compare to their Neogeo Pocket Color counterparts, while also providing instructions on where to find the games.
You can check out St1ka's video below: