The latest hardware revision of the Open Source Scan Converter is now in stock and available for purchase.  These are the v1.8 that ship with the latest v1.6 firmware that includes shadow mask CRT emulation, HDR mode, 1440p pixel repetition mode and improved sync support.  As a note, you can install this firmware on any OSSC, as long as you perform a mod on it.  More info after the link:
Purchase OSSC:  https://retrorgb.link/ossc
v1.6 Firmware Update:  http://www.infocult.com/m/ossc/fw/v1-series/
First and foremost, regardless of other options available (or coming soon), the OSSC will always be awesome.  It's low price point, ZERO added latency and high compatibility with many input devices will always make it an excellent choice.  And I'm really thankful that Markus has continued to provide us with these awesome updates, completely for free.
Next, who should buy this v1.8?  That's easy:  Someone who's OSSC broke and they need a replacement, or someone who wanted one, but hasn't bought it yet.  If you already own an OSSC, simply perform (or have a modder perform) the mod shown below to get v1.6…or don't.  The previous OSSC firmware is already solid and if you don't need the new options, there's no reason at all to upgrade.
I talked about the v1.6 options in a previous post, but I wanted to show a quick demo of the CRT mask emulation.  I tested it for a bit and thought it was a great option…especially in the context of a free firmware update.  Here it is on the left, next to the RT5x on the right.  At a normal size and viewing distance, I think it's a really cool option worth trying: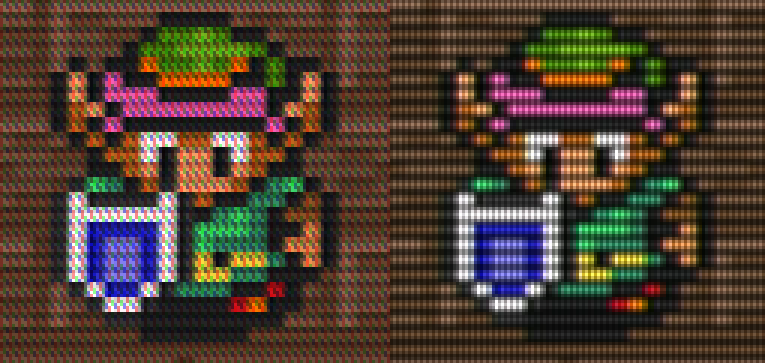 If you have a previous OSSC, here's the mod.  Please be warned, this isn't as easy as it looks!: