The Behar Bros have recently opened pre-order for their much anticipated Consolized-MVS Ultra. They've been releasing quite a few Neo-Geo related products for the past couple of years, including the VGA16, RGB16, Shogun and the MVS I/O board, so that anyone can mix and match those different peripherals to consolize an MVS board.
Alternatively, with the CMVS Ultra, the Behar Bros are offering a fully assembled kit, that incorporates all of the previously mentioned custom boards, a fully refurbished (and serviced) MV1-C motherboard and a slew of add-ons including a NeoBiosMasta (with the latest Unibios version), a battery socket (that holds CR2032 batteries) and RCA jacks for stereo audio output. Everything is neatly enclosed in a custom metal case.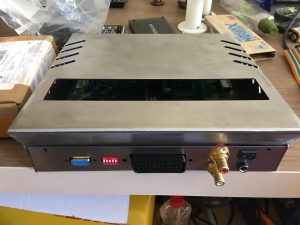 In the video department, the CMVS Ultra is a dual outputting console that features 240p RGB through Scart (using the RGB16 board) and 480p VGA/YPbPr through D-sub 15 (using the custom line-doubler VGA16 board). Both Scanlines and pixel blending can be toggled through dip-switches located on the system's back panel.
The Behar Bros did post a video on their Youtube channel demonstrating the simultaneous video output capabilities of their console:
Here's what's included in the fully assembled kit:
Based on the Original Neo Geo MV1-C mainboard, cleaned and modded
Custom designed full metal enclosure
Custom Jamma I/O board simplifies the cabling inside
Custom impedance matching RGBS Scart video output board with renown THS7374 chip
Custom FPGA based VGA16 Scandoubler board for 480p VGA/YPbPr(Component) output with scanlines and pixel blending options that can be selected with dipswitches
Gold RCA jacks for Stereo audio output
Replaceable battery (CR2032)
Latest Unibios with NeoBiosMasta is included, for upgrading easily
2x Neo Geo Controller ports
Aluminum Hi-Fi feet
Magnetic cartridge slot cover made from plexiglass
High quality 110/220V AC adapter, 5V 3A
High quality 1 meter Sony Scart cable
OSSC safe
The price for the CMVS Ultra is set at 460$. It's definitely on the expensive side, but it's a fully featured and premium product. In my opinion, this is targeted to users who are looking for a be-all-end-all (and aesthetically pleasing) MVS solution for their RGB setups, and don't want to tinker with different custom PCBs and/or dabble into soldering.
The CMVS Ultra is expected to ship in October.
Pre-order the CMVS Ultra here: https://www.beharbros.com/product-page/neo-geo-cmvs-ultra