Taiwanese controller-adapters innovators Brook recently announced the latest addition to their Super Converter line of products: the Wingman SD. This new device accepts PS4, PS3, Xbox One, Xbox 360 and Swtich Pro controllers through a USB-port (or wirelessly) then converts the input signal for use on Sega's Saturn and Dreamcast consoles through two respective proprietary controller-port cables.
The Wingman SD can be used in both wireless (Bluetooth mode for the Switch Pro controller) and wired (USB) modes when paired with modern controllers, including a large array of arcade sticks and peripherals. Extra buttons can be mapped by the user for added turbo functionality. Hot-swapping controllers, without unplugging the device from the console, is also supported.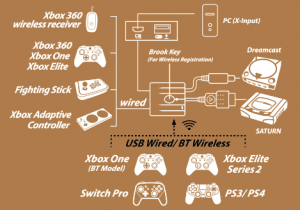 When in use with the Dreamcast, the Wingman SD acts as a VMU featuring a 200-block memory capacity (same as the original VMU and as opposed to the original Brook Dreamcast adapter that only supported 40 blocks) and adds full rumble support.
PC gamers can also benefit from the supplementary X-input option (Xbox One/360 to PC) present on-board of the Wingman SD, through a micro-usb port. The converter's firmware is upgradble, and Brook has a good reputation for continuously supporting their products by releasing free updates.
Note that the Wingman SD, like most other Brook products, is certified for use in big league fighting tournaments such as EVO.
With so many excellently built modern arcade sticks on the market currently, 2D fighting games and shoot-em-up (two prominent genres in the Saturn and Dreamcast libraries) enthusiasts will definitely enjoy a simple plug-and-play solution like the Wingman SD.
The converter is priced at 45$ and can be pre-ordered from shops like Arcade Shock and Focus Attack (currently out of stock) with an estimated shipping date set to early July 2020.
For further discussion, follow me on Twitter: