Swiss based modder Consoles4You just revealed a fully working prototype of the PRO edition of the Xbox2Wii component adapter.
For those who are unfamiliar with the Xbox2Wii, it's an adapter/converter that plugs right into the AV port of the Xbox, and passes the audio and video signals through Wii (AV port) YPbPr component cables, unleashing the console's HD resolutions (up to 1080i).
In the video department, the Xbox2Wii PRO doesn't offer any new improvements over the regular edition, and using it in conjunction with the extremely well built HD-Retrovision Wii Ypbpr cables is highly recommended.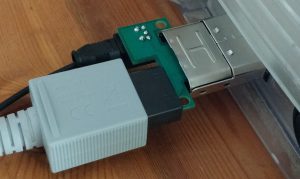 As for audio, the PRO edition is equipped with a Toslink port allowing for pure digital audio output. Some games (and movies) do offer 5.1 surround sound and that option can only be accessed on the Xbox through Toslink/digital audio out . Stereo output is still available through the Wii port though if the user wishes to use that instead. Interestingly enough, both outputs will work simultaneously; that would be a great solution for streamers (Stereo audio for their gaming setup, and digital audio for their capture setup).
XBox2Wii Component Pro prototypes are assembled. Time to get a shell made and have them tested by a few people.

New features are optical audio via Toslink and 5V on the Wiiconnector for Wii2HDMI support.#XBox2WiiComponent pic.twitter.com/KcbJIULQLM

— Consoles4You (@Consoles4You) July 6, 2020
In addition to the audio features, the Xbox2Wii PRO has pin 4 on the Wii port connected to 5V so it can power external devices like the Wii2HDMI (preferably used when the console is operating as a media center).

Consoles4You are aiming for a ~37$ price point but that may widely vary depending on the cost of the 3d printed shell. They're even considering a trade-in (+price difference) for adopters of the regular edition. I'll update the post whenever the final details are announced anyway, so check back here if you're interested in acquiring the adapter.
Consoles4You's regular Xbox2Wii component adapter: https://consoles4you.ch/xbox2wii-component-adapter
For further discussion, follow me on Twitter: