Retro Frog has just released a 3d-printed case for Krikzz's Turbografx 16/PC Engine ROM cart, the Turbo Everdrive.
This new 2-piece clamshell storage case features a Turbo Everdrive engraved logo on the front, a visible hinge on the side, and magnets on the inside of each half of the shell to firmly hold everything in place.
Retro Frog's case is specifically designed to snugly fit versions 2 and 2.5 of Krikzz's Turbo Everdrive, as well as the PC EverDrive (a re-labeling of the Turbo Everdrive) sold by Stone Age Gamer. Earlier revisions of the Turbo Everdrive (1.x) may not fit in Retro Frog's case.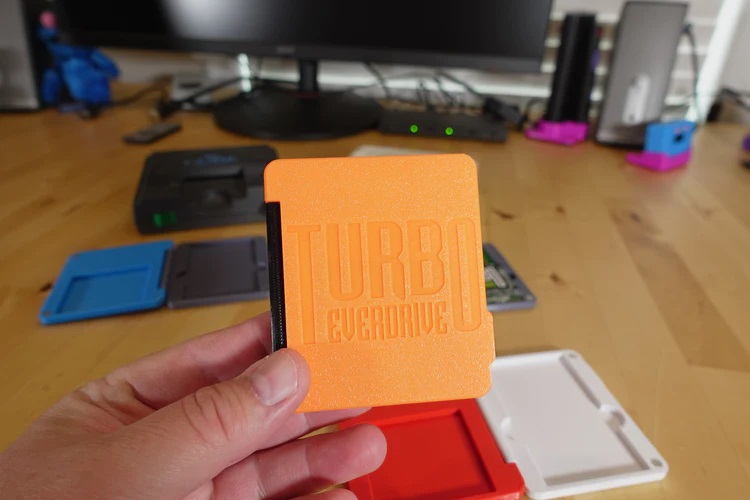 Front side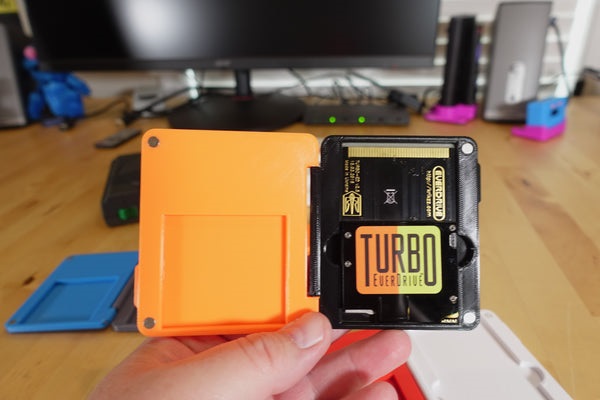 Inside
I personally always wanted a sturdy case to store my Turbo Everdrive in. When I'm not using my ROM cart, I usually keep it in the cardboard box that it shipped in. But in my opinion, Retro Frog's case is a much more elegant and convenient storage solution.
You can now order a Turbo Everdrive magnetic storage case from Retro Frog's shop for $15. The case comes in 4 different color combinations:
Orange front and Black back
Red front and White back
Blue front and Gray back
Orange front and Gray back
Links:
The @krikzz Turbo Everdrive Magnetic Storage cases are avail. to order!

4 colors:
Orange front/Black back like the TG16
Red front/White back like the OG PCE
Blue front/Gray back like the Core Grafx 1
Orange front/Gray back like the Core Grafx 2https://t.co/QwP34hwk3V

❤️ & RT pic.twitter.com/xbqrPaeT1y

— Todd Gill – Retro Frog (@ToddsNerdCave) July 26, 2022
For further discussion, follow me on Twitter: