It looks like an updated version of the EZ Flash rom cart for the Game Boy Advanced may soon be released, for around $100:  https://retrogamerepairshop.com/products/ez-flash-omega-definitive-edition
One of the most interesting new features, is the dual-use mode;  When the cart is switched to single use mode, it'll act like an original GBA cart.  This will allow use on a NDS for doing things like trading pokemons between the NDS and GBA.  The other mode allows it to run as a standard ROM cart.
Here's the list of expected features (subject to change):
Dual-use:  ROM cart and single rom.
Same size as an original GBA game.
Less power draw than the original EZ Flash.
The PSRAM is now 512Mbits which allows playing movies on your GBA.

FRAM is used to avoid save file loss.

The RTC battery on the board is socketed for easy replacement.

An LED acts as an SD card activity indicator (this can be turned off).

It can be used as the RAM expansion card for the DS.

Improved RTC Clock.

A motor for rumble features has been added.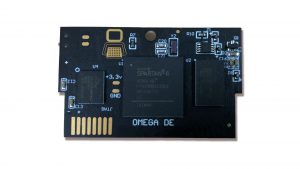 The EZ Flash line of GBA carts were the go-to GBA ROM cart's for years, however (in my opinion) they remained stagnant for far too long – Before the release of Krikzz' awesome GBA x5 and x5 Mini, the EZ Flash products still forced you to use clunky software to load your roms and I often had issues with mine.  Luckily, competition often sparks innovation and the EZ Flash team has since released firmware updates allowing you to use most of the EZ Flash products like standard ROM carts:  Load your games on an SD using a basic file manager and select from the main screen.
If this version of the cart performs as-advertised, it'll offer a similarly-priced alternative to the Everdrives with some unique features.  As always, I'm a big fan of choices and am looking forward to seeing how this compares to the Everdrive, as well as the current EZ Flash Omega.
More info and the source for the pictures shown in this post can be found on gbatemp, but please note that neither the store link, or the gbatemp page are "official" releases, so all info is subject to change:  https://gbatemp.net/threads/more-info-about-the-upcoming-ez-omega-flashcart-d.579481/
Auto Amazon Links: No products found.