Engineer Robert Dale Smith, creator of the SNES-2-3DO, has just released the design files of a plastic mount used to firmly hold in place an ODE, specifically inside of a Panasonic 3DO FZ-1 console.
This mount was originally designed to perfectly fit MNEMO's ODE, but according to Robert, it should also work fine with Fixel's upcoming internal XBus ODE.
With the 3D printable mount you can easily install an ODE without internally modifying your console. If you're unaware, in order to install MNEMO's ODE you need to separate the lower bracket from the CD-Rom assembly. The ODE would then sit on top of the bracket. With Robert's solution, you are no longer required to cannibalize the CD-Rom assembly; just unscrew the whole assembly and store it away.
The new mount is screwed to two screw holes in the exposed part of the motherboard, under the RF shield. To secure the ODE in place, you have to screw it in two screws holes at the back of the plastic mount.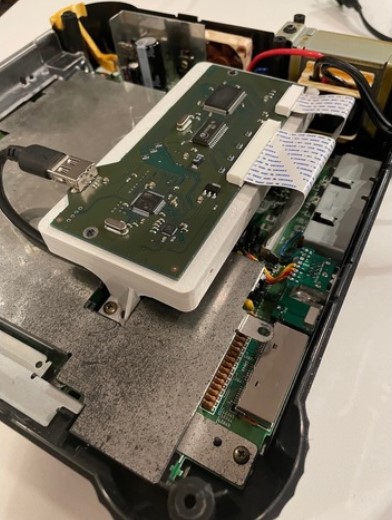 Also, Robert designed a cover mount that holds the stock front lid in place, and a replacement front lid. Both the cover and the lid have USB-A cutouts, so you can use a USB extension cable that connects to the ODE from one side and gets mounted on the front of the console on the other side. You can then connect your thumb drive at the front of your FZ-1 3DO, as show below.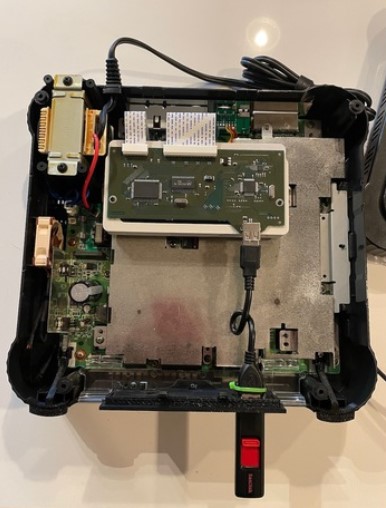 You can now download the design files of the internal mount and the replacement lid through Robert's Thingiverse page and print them on your own or via your favorite 3D printing service.
Links:
For further discussion, follow me on Twitter: