Fixel, the main developer of the 3DO emulator "freedo" has just announced a new series of open source, optical drive emulators (ODE) for the 3DO game console:  One version called the "X-Port" will simply plug into the rear memory expansion port with no installation required and the "XBus" version will be a plug & play replacement for certain model optical drives;  Both will support loading games over both USB and SD.  Fixel has created an interest check form, to gauge about how many people are interested in which model.  There's no price yet, however they should be available before the end of the year.  More info and some thoughts below the links:
Here's the interest check list:  https://docs.google.com/forms/d/e/1FAIpQLSdXKDiN3Zj6LP0Q9mzwDYKR0H1jnfWK6eb1Vwtgdju92hIJ_A/viewform
Support Fixel Here: https://ko-fi.com/fixel1818
Follow on Twitter:  https://twitter.com/flxel
The github will be here once the project launches:  https://github.com/fixelsan/fz1ode-hw
I spoke to Fixel over Discord chat and was really excited to hear more about the project!  It's been in development since 2019 and Fixel's been preparing to manufacture them this whole time, so this first batch shouldn't be affected by the part shortage.  I also asked about potential wifi support for RetroNAS and while that's not currently being planned, PiZero wifi-over-USB support could be a viable option.  So, let's take a look at both models:
The internal XBus version is designed for people with dead CDROM drives that want something compact and tucked away in the console.  There's no soldering or component removal necessary, simply unbolt the original drive and connect this in its place. This is awesome for people who have dead CDROM drives and would rather not hunt down and configure a new assembly or laser!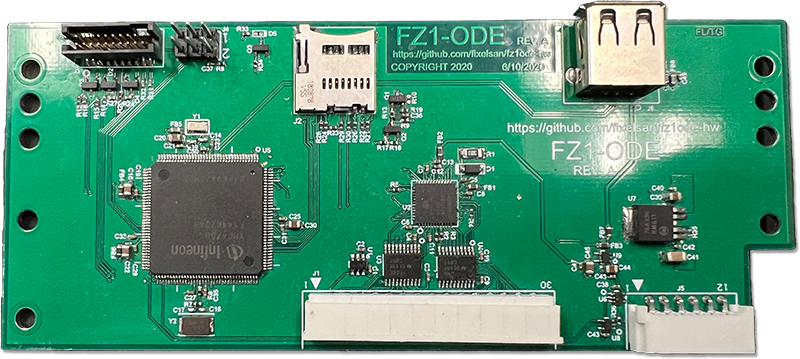 I think the most exciting version is the external, plug & play mode, called the X-Port!  Not only is there no installation required, you can still use the existing CDROM if you choose!  While it might not be as tidy and tucked away as an internal solution, I love that developers are creating solutions that allow our consoles to remain stock.  Another bonus is being able to easily use the same drive between multiple consoles and the X-Port is compatible with everything except the failed Windows PC addon called the 3DO Blaster – Basically, all home console versions will work!
The XPort will also act as a homebrew FZ-EM256 – The Japan-only device designed to expand the 3DO's internal Save Game memory from the 32kb of built-in storage to 256KB.  I'll definitely be ordering the XPort and am really excited for a no-cut, no-mod 3DO ODE!!!