SCART Switches
Most of us in retro gaming have more consoles than inputs on our TV, leaving us looking for switches.  If you're using RGB SCART from your console, this page will show off some quality, tested SCART switches (and what to stay away from).
*If you're looking for the best retro gaming component video switch, I'll have a page on that soon, but my two favorites are the gcompsw and the GamesCare Component Switch – check both and decide which you'd prefer, but both are great.  You can also try to use Extron Crosspoints with BNC connectors if you're looking for something used and less expensive, but if you want something new and easy, the above two are the best.
As a note, if you need info on how to connect the switch to your RGB display, please see the SCART to Display page.
gscartsw: automatic 8:2 SCART-RGB switch

This is an 8-port SCART switch made specifically for retro-gaming.  It's the most mature product on this list with years of proven use.  It's a bit expensive, but offers auto switching, dual simultaneous outputs, true sync regeneration and the ability to convert RGsB to RGBs.

Please check out the review page for more information.
Purchase yours here:  https://retrorgb.link/gscartsw

Retro Gaming Cables SCART Switch

This switch is a manual, pushbutton switch that works really well.  It doesn't have any of the features of the above gscart and only one output…but it's only about $65!!!  This is absolutely the switch I'd recommend, if you didn't need the extra features of the gscartsw, or are on a budget.  Here's a full review:  https://www.retrorgb.com/rgc-scart-switch-reviewed.html

GamesCare 8×2 Auto + Manual SCART Switch

This is an automatic, 8-in, 2-out switch from GamesCare.  It's completely safe to use in both single and dual output modes, doesn't affect picture quality at all and offers two manual modes as well:  One pushbutton and another via a web app!  Here's a full review:  https://www.retrorgb.com/gamescare-8×2-scart-switch-review.html

SCA101 JP21 and SCART Switch

This is the only switch on the market that supports simultaneous use of both JP21 and SCART cables, acting as both a switch and a converter!  It also supports 10 inputs and multiple output options;  Single output is recommended, but simultaneous outputs are possible (check the review above for more info).

There's also some expert options such as RGB gain control and H&V controls.  Please note that the sync stripper outputs TTL level sync, so please leave that off if you're going into SCART equipment.

Otaku-Store SCART / RCA Switch

I've had mixed experience with the Otaku switches.  The manual pushbutton one is good, but the 6×3 has some potential voltage issues.  The 10×3 was good, but there are many board revisions, so you might have slightly different results.

Manual Switch:  https://s.click.aliexpress.com/e/_DFxPTtd
10×3 Auto:  https://s.click.aliexpress.com/e/_DkZPkJH

Shinybow SB-5525

The Shinybow is the only "matrix" SCART switch on this list;  You can assign different inputs to different outputs at the same time.  It tested very well, but unless you require matrix switching, the others above are better choices

Bandridge 5-port SCART Selector

There are two models available:  One with a push-button manual switch and another that auto-switches once your console is turned on.  Please note that some people have had major issues with theirs: http://shmups.system11.org/viewtopic.php?f=6&t=49746

Hydra 8-port SCART switch

This is an 8-port SCART switch from Lotharek.  It has one SCART output and is powered by MicroUSB.  Many people have positive reviews, but I had issues with the multiple revisions I tested.  I'm only listing it here since I often get questions about it.  It'll probably be fine, but use at your own risk.
Absolutely stay away from any switches that look like the ones pictured below (sometimes sold under the "Lindy" brand). I've tried a few of those and they ranged from "bad" to "terrible".  One even caused a dark purple tint across the screen!
Please keep in mind that there are some cheap pushbutton switches out there that seem to work fine.  Most are just basic 2 – 1 switches, but it work fine with no quality loss.  Unfortunately, most come in generic cases, so it's hard to tell which are the ones that work okay.  People have reported that the ones labeled "Wilko" or "Wickes" seem to be fine, but please use these at your own risk: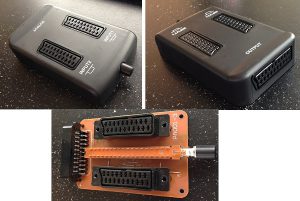 If your setup includes a mix of Component Video, VGA and RGB, you might want to consider alternative switches.  This is much more complicated than using a SCART switch, so I suggest giving the page a full readthrough to see if it's something you'd be interested in:
Alternative Switches
If you came here while reading the
RGB Guide
, please move on to the section that shows
how to get RGB from each game system
!  That section also has info on audio enhancements, which versions of each system output the best quality, plus some other helpful info!  Alternatively, head back to
the main page
to see what other retro-awesomeness is available on this site!