There's a new firmware available for the XStation optical drive emulator that now offers an option to sort by subfolders.  In the example showed above, I had all my ISO's sorted into directories by letter, however the previous firmware listed them as if they were all on the root of the MicroSD.  This was still helpful, as I was able to organize the MicroSD any way I'd like, but this new option allows you to browse in the same layout as your card!  The full list of changes, as well as a video detailing the XStation can be found after the link:
Download the new firmware update here:  https://github.com/x-station/xstation-releases/releases/tag/1.3.0
XStation (US Seller):  https://retrorgb.link/xstation
XStation (US Seller + Installation):  https://retrorgb.link/xstationplusinstall
XStation (UK Seller):  https://retrorgb.link/xstationrgs
MicroSD Cards:  https://www.amazon.com/shop/retrorgb?listId=2ZTMQP0SZ7GRK
To perform the firmware update, simply extract the two files in the zip (update.bin & loader.bin) to your SD card's "00xstation" folder.  Then start your console, enter the options menu, select "Update Firmware", then press Start.  The firmware will be installed and the console will reboot.
In order to toggle the new view, go back into the menu options, switch folder browsing to "Yes", then hit "Save + Exit".  Once you've exited, you'll now see the folder view showed in the thumbnail above.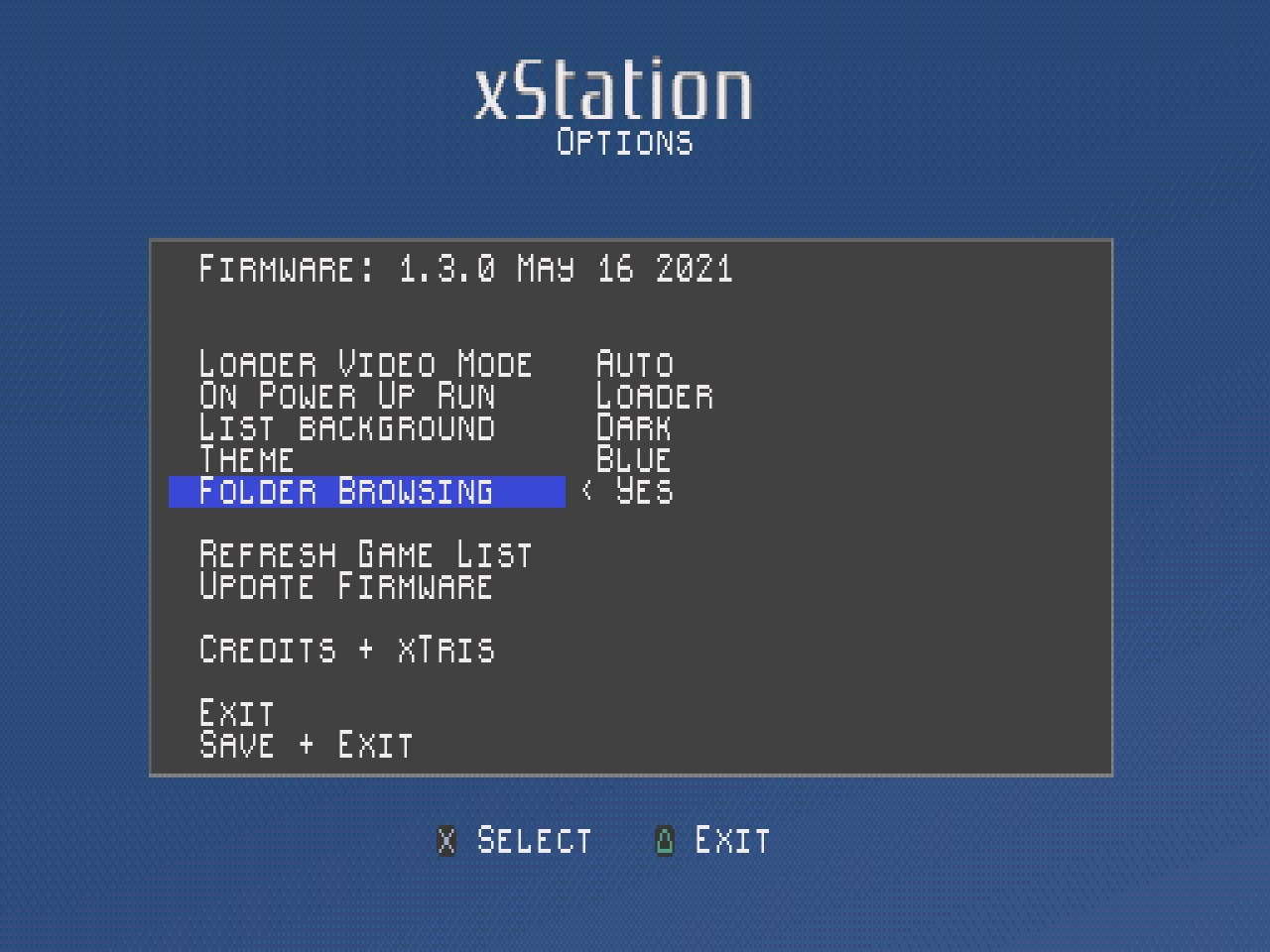 Here's the full list of changes:
implement folder based browsing

can be enabled in the loader options
doesn't require game list scanning
multi disc queues not yet implemented (use regular mode for now)

rewritten core to remove old dependencies for better maintainability
avoid SD card access while seeking
overall faster seek times
use an SPI peripheral for the DSP sub bus (faster, more efficient)
TOC parsing: malformed TRACK and INDEX tags fixed
fix gamelist scanning errors / duplicate files for macOS Finder users
Folder based browsing for your xStations 🙂https://t.co/wQ8QprKR3q

— Robert Neumann (@_ramapcsx2) May 20, 2021