The RGB-Pi team just released a new DYI kit/hat for the Raspberry Pi named the RGB-Pi Plus.
Unlike the team's previous efforts, the RGB-Pi cable and the Jamma RGB-Pi, the RGB-Pi Plus isn't a simple plug-and-play solution for Raspberry Pi gaming. It actually expands on the older products functionalities by adding wiring support for:
2 8-button arcade panels
Stereo sound output
Red, Green, Blue and Sync pins for video output
5v pins for blanking signal and an optional fan
All the aforementioned options require soldering on the user's side.
One scenario where the RGB-Pi Plus could prove useful is in a Raspberry-Pi-setup based MAME cabinet where on-board pins would be wired to custom parts including buttons, sticks, speakers and a CRT.
If the user wishes to install the RGB-Pi Plus in a consolized fashion, outputting video through an already-owned Scart cable, installation instructions are offered by the team for 3 different pinouts: the Genesis 9-pin mini-din, Nintendo multi-out and Sony multi-out.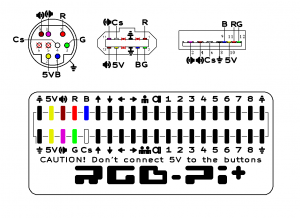 The plus is priced at ~34$ + shipping and can be ordered by email through RGB-Pi's website.
More info about the RGB-Pi Plus: https://www.rgb-pi.com
New RGB-PI family device #rgbpiplus, this time focused on the DIY world, with the usual RGB output plus two inputs for controls of up to 8 buttons per player, ArcadeSticks, Bartops, consolizations with DB15 everything you can think of, now available at https://t.co/IgjEobymIQ pic.twitter.com/0YJnDUSNNM

— RGB-Pi (@RGB_Pi) June 30, 2020
For further discussion, follow me on Twitter: