Mike Chi has just released another firmware update for his RetroTINK line of products, making this the second update in about a week!  The new features in this firmware are for the 2x Pro and 2x SCART devices.
Purchase all RetroTINK Products via multiple vendors worldwide here:  https://www.retrorgb.com/retrotink.html
Additions are as follows:
Improved DVI-only detection
CVBS Luma gain in 'Auto' mode now works more like a modern LCD versus a CRT if you prefer that look instead.
Low-res YPbPr mode for mimicking pixel dithering effects (beta feature).
Filter button cycle is now: regular, smoothed, scan-lined, low-resolution, low-resolution/smoothed.
The "low-res" mode is definitely the most interesting feature, as it's designed to take high quality signals like RGB or component and add "composite video blending" that was often used as an artistic choice in creating these games.  While the feature is still in beta, you can see the differences below in one of the most commonly used examples:  The waterfall in Sonic games where the blurring allows the water pixels to blend together and look more like water: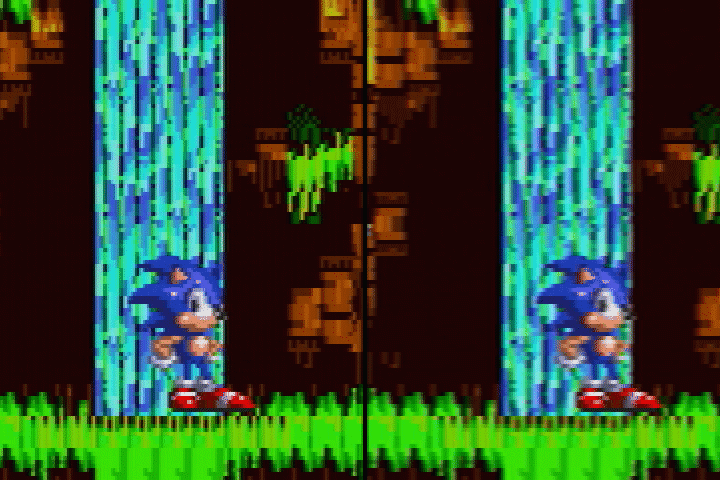 Of course, this mode also blurs the rest of the image as well.  Check out the slider to see the differences for yourself:

  
  

Overall, I think this is a really cool feature that people should try out on each game that uses composite blending as part of the artwork.  I imagine people will like it in some cases and not others, but trying it out is as easy as pushing a button!
Firmware Update Files:  https://www.retrotink.com/post/retrotink-2x-pro-firmware-update-v1-1
RetroTINK 2x Pro:  http://bit.ly/retrotink2xpro
RetroTINK 2x SCART:  http://bit.ly/retrotink2xscart
Another week, another firmware update to the RT2X Pro: https://t.co/7Fj0qjW3xK

— Mike Chi (@retrotink2) March 15, 2020