For the second time in as many months, Retro Fighters is going back to the GameCube well with the BattlerGC: a wireless GameCube controller that is identical to the BladeGC (which we covered here on RetroRGB a few weeks ago) but with a stick layout that is faithful to the OEM controller's original offset design. To reiterate, the BladeGC and BattlerGC are otherwise identical products—the only thing influencing your decision will be whether you prefer an original GameCube/Switch/Xbox-style layout with a smaller D-Pad, or a Playstation-style layout with a slightly larger D-Pad.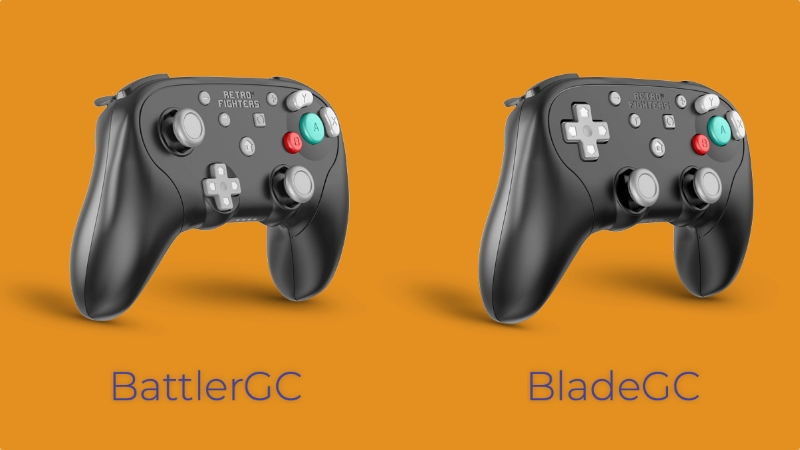 Ad Break: One of the ways RetroRGB is able to sustain itself is through affiliate links to retailers, so if you were thinking of pre-ordering a BattlerGC it would support us if you bought it through Castlemania Games with the following links. They have pre-orders open until November 29th, 2021 in Black, Spice, and Indigo.
If you've already read up on the BladeGC then this is going to seem pretty familiar, but for those of you just hearing about this for the first time:
Both controllers are GameCube, Switch, and PC compatible. The implication seems to be that they're including both GC and USB receivers in the box, but this hasn't been confirmed yet.
Although it's not listed as a feature anywhere on their website, Retro Fighters' Twitter account has made multiple claims that both controllers support rumble when used with either receiver.
The triggers are a pressure-sensitive analog mechanism but there's no word yet if they have the same digital click at the termination of their range, like the OEM GameCube pads do.
Dual symmetrical Z-buttons, which are oddly labeled as L1 and R1 in promotional content.
A proprietary 2.4 GHz wireless signal is used to connect these, as opposed to Bluetooth, which means that Switch and PC compatibility is only through the included USB receiver.
Turbo button toggle.
Battery life is around ~10hrs.

Charging over USB-C.
Full disclosure: I'm a fan of Retro Fighters' products, which I use regularly and have even reviewed for RetroRGB. While I don't think their controllers are flawless, the Brawler64 2.4GHz and StrikerDC were fashioned to a workmanlike standard that I found preferable to the idiosyncratic OEM N64 and Dreamcast pads. Unlike those two consoles however, the GameCube controller has a strong cult following and has literally been in use for twenty years and four console generations—longer than even the venerable DualShock design that Sony kept until the PS4. I imagine that measuring up to a legacy like that is fairly intimidating, but it will be a relief if they're able to introduce a usable alternative to the slowly dwindling supply of WaveBird controllers.