Two Guys Records in association with the Classic Gamers Guild have launched a crowdfunding campaign at Qrates for a 7″ vinyl arrangement of Freddie Pharkas & Laura Bow 2, featuring artwork designed by Steve Coupe. The campaign ends on 8th of October, with asking price of $26.00.
Qrates: https://qrates.com/projects/27657-pixel-road
Pixel Road campaign is looking for 100 backers. Unlike with other crowdfunding platforms, after the campaign reaches its goal and funds are collected from backers, the artist/record label will submit all the necessary files like music and all the art that goes on the jacket and vinyl to Qrates, who then handles the pressing and deliveries to backers.
This release features saxophone from Al Lowe, punk-rock cover by Troels Pleimert with vocals by Josh Stewart and guitars by Jon Paul Sapsford, as well as singing and spoken-word of naughty bits from Leisure Suit Larry manual by Josh Mandel.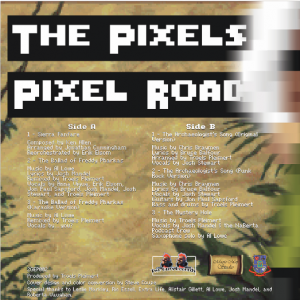 It will be pressed on a 7″ ivory-colored vinyl with orange splatter. Important note here is that despite being a 7″ this is a 33⅓rpm record, not a 45rpm record, due to the amount of content included.
All the proceeds raised during this campaign will be donated to Extra Life charity organizations.