Developer Hiltop has just released an English translation patch for the PlayStation side scrolling shoot 'em up, Harmful Park.
Often grouped with other 90s cute 'em up games such as Keio Flying Squadron and the Parodius series, Hamrful Park came out in 1997 but never saw release outside of Japan. The game features full English menus and HUD; that made Harmful Park a popular import among non-Japanese speakers. However, the introduction FMV and between-level cutscenes have Japanese audio and subtitles.
Hiltop's patch introduces English subtitles to the intro and cutscenes so players can now get a grasp of the most-probably-ridiculously-over-the-top story while getting through all 6 stages of the game. On the surface this may appear like a normal Japanese-to-English text translation, which is still great. But Hiltop went the extra mile and created a tool that helps extract and edit sprites and tiles from a few PlayStation games, including Harmful Park.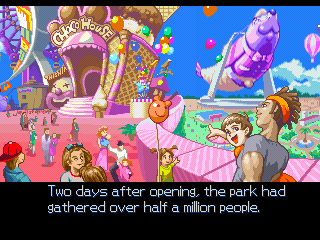 In Harmful Park, some items dropped by enemies as well as park signs in the background have Japanese writing on them. Using a Python-based script, Hiltop extracted selected elements and edited them so they now have English lettering on them instead of Japanese.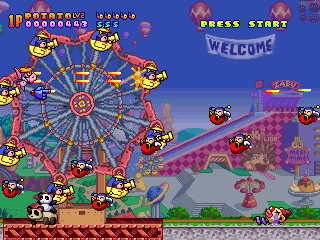 Hiltop described their work on Harmful Park as a fun side-project, before shifting their full focus to bigger projects like the full translation of Aconcagua (another Japanese-exclusive title that is compatible with Hiltop's extraction and editing tool).
You can download the English translation patch for Harmful Park for free on Hiltop's Patreon page. The downloadable .zip file includes the patch in the form of a .xdelta file, a patching tool and instructions on how to apply the patch onto your bin/cue rip of the game.
I was able to successfully run my patched rip of Harmful Park on the PSIO so this should also work on the X-Station.
Links: