Fixel has just released a firmware update for the 'XPort' external, plug and play optical drive emulator.  The revision 0.57 firmware allows for 100% compatibility with the entire redump disc set!  That means this external solution should be equal in compatibility, but much faster than original CDROM drives.  Fixel is also running a Haloween sale for anyone interested in purchasing either UDE.  Discount codes, the update process and an easy capacitor fix for problematic 3DO's can be found below the links…
Firmware Update:  https://github.com/fixelsan/3do-ode-firmware/releases/tag/xp_fw_0_57
X-Port (external):  https://3do.dev/products/copy-of-xport-ode-batch2
FZ-1-only Internal Version:  https://retrorgb.link/fixelfz1
Bracket for FZ-1 Version:  https://retrorgb.link/fz1odebracket
Discount Codes:
6% off FZ1 or XPort ODE (expires Halloween night). Code: halloween22
Buy XPort ODE, get any other ODE at 13% off. Code: scarycyberturkeyxp

B

uy FZ1 ODE, get free ribbons. Code: scarycyberturkeyfz1
Update:
To update, place the xpode.xpu file from Github on the root of your media (USB, MicroSD, etc).

Boot to the XPort and Select

X

 -> 

UpdateODE

 on the menu.

Rapid blinking LEDs will indicate the update. It may take 1-2 minutes to complete. Console may reset during the update process.

New startup is indicated by blinking "Image LED" during power on.

That's it!
Reset Capacitor:
The 3DO's "reset capacitor" is a common source of issues when using both CDROM's and ODE's.  While doing a full capacitor replacement is good practice – and will eventually be required on all of these classic consoles to keep them running – Not everyone has the time, skills or opportunity to make that happen.  That said, there's an easy fix that's a decent alternative.
First, carefully disassemble your 3DO.  There's a ton of screws, but as long as you mark where each go (and remember the order you remove things in!), it should be pretty easy.
Then, for FZ-1 units (I tested both US and JP versions), locate C401, next to the drive tray eject button (click for a full-sized picture):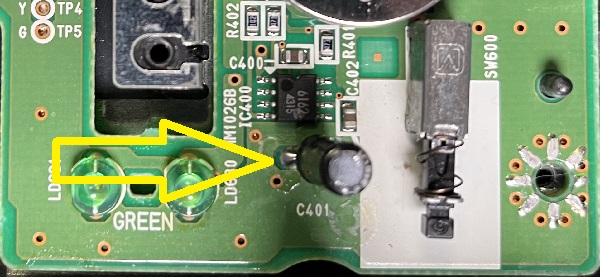 Even if you don't have a desoldering iron, you should be able to carefully use a soldering iron to remove the original and replace it.  Simply note the orientation of the negative leg and replace it with a brand new capacitor;  The value in the ones I tested was 22uF, 5v, however any cap 20-100uF and a minimum of 10v should be fine as well.
Replacing this should fix the random hangs at boot and a few other issues you may run into with both discs or ODE's.
Here's the full list of changes to this firmware:
Improved startup procedure, helps consoles with bad or missing reset capacitor
Improved compatibility – tested and working on entire Redump set.
Improved USB compatibility with odd drives.